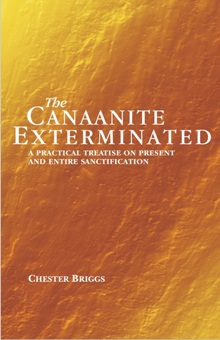 The Canaanite Exterminated
Author:
Chester Briggs
Quantity in Basket:
None
Price:
$18.99
Shipping Weight:
0.65 pounds
"A Practical Treatise on Present and Entire Sanctification"
In The Canaanite Exterminated, United Brethren in Christ pastor and author Chester Briggs refers repeatedly to Phoebe Palmer's influential 1843 book, The Way of Holiness, as well as to the writings of Prof. Thomas Upham (Inward Divine Guidance; Religious Maxims), Madame Guyon and Fenelon, all significant to the American Holiness Movement. Although he was a contemporary of Palmer and Upham, his style and terminology in this volume soon confirm that, while they agreed with and experienced the entire sanctification that Wesley preached, Briggs and the Brethren did not descend from the Methodist Church's lineage, as did many other holiness writers of his day. He echoes much of Palmer's "altar theology" in obtaining sanctification, sharing her insistence to "do it now." However, he goes into considerably greater detail than she in what would come to be called in the twentieth century, "dying out." He uses the term "crucifixion." Employing the oft-repeated biblical type of crossing the Jordan River into Canaan as symbolical of being sanctified, he refers to this "death of the old man" as exterminating the Canaanites: "These battles will be between the life of sense, and the life of faith; between the various effects of the fall yet remaining, and the Spirit." He urges readers to persevere, no matter how long it takes for the Holy Spirit to rid them of the "Canaanites" and until they have the assurance in their heart. (Half a century later the concept would reverberate in W.B. Godbey's book Deeper Things.) Item #:6467; 244 pages.
This Schmul Publishing Co. edition is not a scanned facsimile of a used book. It has not been "updated" or edited into modern English, punctuation or grammar, but is accurate to the author's own style and usage. The text has been carefully proofread for accuracy and formatted for easier reading by today's readers. Every effort has been made to prevent disordered text.