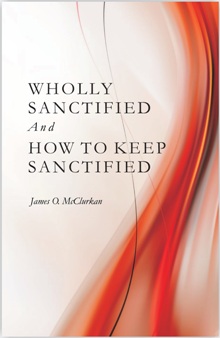 Wholly Sanctified and How to Keep Sanctified
Author:
James O. McClurkan
Quantity in Basket:
None
Price:
$14.99
Shipping Weight:
0.75 pounds
It has been said in reference to Entire Sanctification, that holiness people often insist, "Get it. Get it. Get it," when maybe we should also urge, "Keep it. Keep it. Keep it." James O. McClurkan set out to remedy both of these issues. Wholly Sanctified and How to Keep Sanctified combines two of his books into one volume. In the first section, Wholly Sanctified: What It Is and How It May be Obtained, the author explains what the Second Blessing will and won't do, and sets out in plain English how to obtain it. But he goes further. He deals with some misconceptions after the cleansing experience, and clearly enunciates how to live it. He even wades into a rare discussion of what he calls "a deeper death to self," maturing and going ever deeper into the life of the soul after experiencing sanctification. (T.M. Anderson alludes to this in After Sanctification.) The second section consists of his little booklet, How to Keep Sanctified, a topic all too often overlooked. Without preamble, he launches straight into life after being sanctified. He deals head-on with issues that, if not nurtured, drain the vitality out of the heart— temptation, feelings, ongoing consecration, faith, testimony, living a moment at a time, and more. The result is a book to keep handy as a reference and a refresher.
Item #:6432; 160 pages.
This Schmul Publishing Co. edition is not a scanned facsimile of a used book. It has not been "updated" or edited into modern English, punctuation or grammar, but is accurate to the author's own style and usage. The text has been carefully proofread for accuracy and formatted for easier reading by today's readers. Every effort has been made to prevent disordered text.