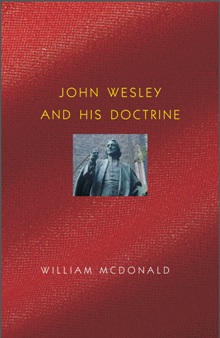 John Wesley and His Doctrine
Author:
William McDonald
Quantity in Basket:
None
Price:
$13.99
Shipping Weight:
0.75 pounds
In the late 1800s the doctrine of entire sanctification was increasingly challenged, paralleled by rising worldly accommodation in the church. Like their founder, John Wesley, holiness advocates found themselves ostracized. Many were forced out by anti-holiness congregations and bishops, and left to form new holiness churches. During this dark time William McDonald felt the need to address false assertions by opponents who claimed Wesley himself did not advocate entire sanctification as a second work of grace, or that he changed his mind in his later years. McDonald's small, easy-to-read volume, John Wesley and His Doctrine, ably rose to the challenge. The first part of the book is a brief overview of Wesley's life, especially the opposition and persecution he and his circuit-riding preachers endured. The second part is a condensed examination, in easy English, of the objections raised by his opponents at different stages of his preaching career, and his incisive responses. Today, scholars and preachers in many of the very groups that "came out" of the old Methodist Episcopal Church now repeat the same errors of the 1800s, casting aspersion on the doctrine and looking askance at those who still hold to it. In such an environment, McDonald's work rises again to affirm the solid truths of scriptural holiness as proclaimed by John Wesley and the early Methodists. Item #:6394; 142 pages.
This Schmul Publishing Co. edition is not a scanned facsimile of a used book. It has not been "updated" or edited into modern English, punctuation or grammar, but is accurate to the author's own style and usage. The text has been carefully proofread for accuracy and formatted for easier reading by today's readers. Every effort has been made to prevent disordered text.