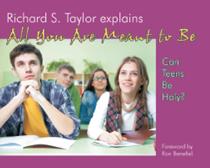 All You Are Meant To Be
Author:
Richard S. Taylor
Quantity in Basket:
None
Price:
$9.99
Shipping Weight:
0.25 pounds
All You Are Meant to Be: Can Teans Be Holy
Author: Richard S. Taylor
Sets forth Wesleyan concepts in plain language that any youth can understand. Explains holiness and the Christian life in an easy, entertaining style sure to engross young people from pre-teen to young married age. Thought-provoking, clear and not afraid to tackle the tough issues: A Right Start; The Right Stuff; Isn't Being Born Again Enough?; How do you Think?; Holiness at Home; Holiness and Dating; Fostering Sanctified Desire; The Path to Greatness; and much more. In a handy "half size" book specially designed for youth, easy to carry in a backpack, book bag, pocket or purse.
Item #:4642; 118 pages. Trade Paperback.